Feb 25, 2022
Why You Should Get a Home Inspection
Home inspections (and HomeCloud Certifications) can provide you with valuable information about a home so that you can make more informed decisions.

Christian Pierce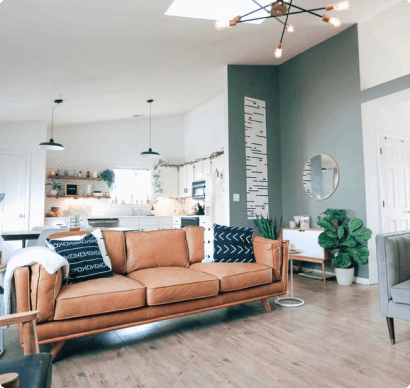 Getting a home inspection or HomeCloud Certification is wise to do whether you're the seller or the buyer. If you're selling your home, doing this before listing your property on the market (also called a pre-inspection or pre-listing inspection) allows you to get ahead of any potential deal-breaking defects discovered after you're already under contract with a buyer. On the other side, buying a home requires a significant capital investment, which means you should do your proper due diligence on the condition of a home's system and components to avoid any costly surprises after you take the keys. We decided it would be helpful to highlight a few key reasons why you should consider requesting a home inspection or HomeCloud Certification. Check them out below!
Seller Benefits
Shift from Reactive to Proactive
One of the most stressful (and potentially costly) situations in the home sale process is when you have to scramble to fix serious repairs requested by a buyer. Getting a HomeCloud Certification before listing your home will help inform you in advance about what repairs are needed to get your home sale-ready. Completing the identified and recommended repairs on your terms will save you significant time, energy, and money.
Mitigate Any Deal Breakers
There are many potentially serious problems with a home that can torpedo a sale process before getting it across the finish line. The last thing you want is to have a homebuyer walk away from the process after you've gone under contract with them. HomeCloud's certification process will help you identify and resolve major deal-breakers such as mold growth, water damage, roof damage, foundation/structural issues, old plumbing, and many others.  
Drive Buyer Interest
Homebuyers will know that you are serious about getting a deal done when your home comes with a HomeCloud Certification. Buyers will feel more confident that the home is move-in ready and that everything has been disclosed and well documented. Not only that, there is additional comfort to offer to prospective buyers as every HomeCloud Certified home also comes with a 90-day warranty (see terms here) from the date of the certification.
Improve List Price & Speed Up Closing
Buyers have shown a propensity to pay more for a home that doesn't need repairs after closing because of convenience. You may be able to justify an increase in list price for your home if you offer the luxury of buying a safe and sound home to prospective buyers. Not only that, getting a HomeCloud certification will allow you to skip the typical 1 - 2 week period allotted for traditional inspections and the extra time for re-inspections required to confirm any requested repairs were completed. That means that you can close on the sale of your home faster and avoid any unexpected delays that might cause you to miss a window of opportunity.
Transferrable Marketing Material
A HomeCloud certified home comes with a shareable digital profile that acts as a great marketing tool for prospective buyers. You get to show them an objective and comprehensive third-party view of your home, and they get a fully-populated home management tool after they assume ownership. Once a home has a HomeCloud profile, it can be shared again and again any time it changes hands to a new owner. Prospective homebuyers will be interested in getting access to this type of reusable tool as the benefits continuously compound through a growing system of record for the home.
Buyer Benefits
Ensure Safety
Above all else, you want to make sure that the home you're purchasing is truly safe. A home inspection or HomeCloud Certification can identify safety hazards and provide you with the peace of mind you need before finalizing your purchase. HomeCloud also offers and coordinates recommended supplemental services such as radon testing, wood destroying organism inspections, and well water testing so that you can have a complete understanding of the property beyond what is covered in our HomeCloud Certification Standards. 
Avoid Costly Repairs    
A home is a large investment, and you don't want to have to spend more than you have to because of something you didn't know about in the first place. If you don't have your future home inspected or HomeCloud Certified before it's yours, you could end up assuming the cost of big-ticket repairs that may add a significant amount to your total budget. A HomeCloud Certification can pay for itself by helping you identify repair items that the seller needs to fix before closing, reducing your overall cost of ownership.
Know More About Your Future Home
Homeownership can be challenging, complex, and generally daunting. Typically you review some pictures on a listing and walk through the home once or twice, and that is it before you make your purchase. You likely won't know much about the home after those quick walkthroughs and might find yourself having a hard time managing everything once you move in. A HomeCloud Certification empowers you to protect your investment through knowledge by digitizing all of the critical information about a home's systems and components automatically for you. With a fully-populated home profile, you'll be able to see helpful insights and share your information with third-party service providers as you manage your home.  
Plan Ahead
Home inspections or HomeCloud Certifications can be used as great planning tools to estimate costs for homes that may require upgrades in the future. Not all items identified in a HomeCloud Certification will need repair. Some items may still be functional but are old. HomeCloud will provide you with unique insights into things like the remaining manufacturer-recommended service life of the home's appliances or the life expectancy for the roof. These types of data-driven insights will help you better forecast costs and build a budget for planned repairs that are eventually coming. 
Feel Confident
Considering all things, you want to feel confident about purchasing your future home and that the price you're paying appropriately reflects its current condition. It is easy to be impressed when you go see a home for the first time, but purchasing it without taking the proper steps can lead to a case of buyer's remorse. Doing your proper due diligence and consulting a third party will keep you from getting caught off guard by issues that can turn your dream home into a headache. Getting a home inspection or HomeCloud Certification is a great way to assure you that you're making an informed decision about the home before you purchase it.
You Deserve More From Your Home Get It With HomeCloud
Certify a Home
(for up to a 1,499 sq. ft. home)